Send and Receive Large Files
Quickly and Easily
In today's technology-driven world, file sharing is as common as smartphones. It's a daily activity for small and large businesses. Unfortunately, the current operations model uses slow, complex, and often insecure file transfer methods.
Binfer makes file sharing super easy. There are no file type, file size or file quantity restrictions. So, whether it's a creative agency sending large files to clients, a law firm transferring sensitive documents to China, or a freelancer sending routine files to a collaborator, we enable you to move data directly from sender to recipient with no fuss.
It's a shame that businesses have been forced to accept a trade-off between security, ease of use and simplicity for file sharing. We created a flexible platform to provide excellent service in all three of those areas.
Unlike cloud-based data storage and transfer solutions, sending large files through Binfer doesn't depend on server speed. Files transfer directly from you to the recipient. There are no uploads or downloads to any third-party servers, and your transfers are private and 100% secure. Did we mention that it happens super fast?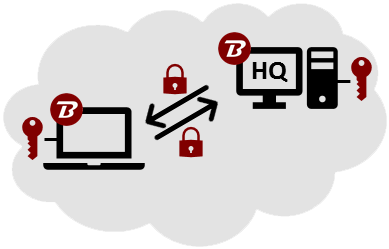 Binfer's private, large file sharing service provides a complete, military-grade AES 256-bit encryption that operates outside the cloud or any other server. To give you some context, a 256-bit encryption is the same encryption level many global banks and government organizations use to secure their systems. Plus, with Binfer you can drag and drop 1000's of files or folders, and our deep folder structure is preserved and replicated on the file recipients' device.
Check Out The Binfer Suite Products