Binfer 3.3 release brings you a redesigned Web Pickup page, two additional download methods, thumbnail view, website integration and HTML5 media streaming.
For those reading about Binfer for the first time, here's a short introduction. Binfer allows you to instantly send large files to family, colleagues, clients or customers, directly from your computer.
Unlike other solutions, you don't have to worry about exposing your file system, setting up permissions etc. There is no complicated server to setup. Your files are not uploaded anywhere. With Binfer, you can transfer big files of any size and quantity over the Internet, easily, securely and directly.
With Binfer, you share exactly what you want, with whom you want. All files stay on your computer. You have full control over the data. Along with large file sharing, 3.3 also has secure email and chat applications. While most of its benefits are realized with the desktop application, you can also integrate it on your own website to receive and deliver files with web widgets.
This blog is about what's new in this release. Please do visit the other pages on this website for more details. While, everyone can find great benefits, some features are more applicable to specific kind of user and their use cases are highlighted in the "Application" section.
Redesigned Web Pickup Page
Web Pickup has been redesigned to make it even more easier for recipients to download files you send. Files can be viewed in List or Icon view. You can also choose to show Web Pickup message to show in Skinny mode, where only files and a compact action bar are shown.
Download All Files As Zip
All files sent in a message can be downloaded as a single zip file. Also, the limit of Web Pickup files has been increased from 20 to 100. Recipients do not have to create an account to use this option.

Files can also be downloaded using the Advanced Binfer Receive Applet. The Binfer Receive Applet can download all files automatically and resume interrupted transfers. Recipients do not have to create an account to use this option.
Thumbnails View For Photos
Files can be viewed in Icon view. Icon view will automatically generate thumbnails of photos sent in the message.
Deliver Files From Your Website
Now, you can deliver files from your own website. The Web Pickup widget can be easily added to any page on your website in minutes.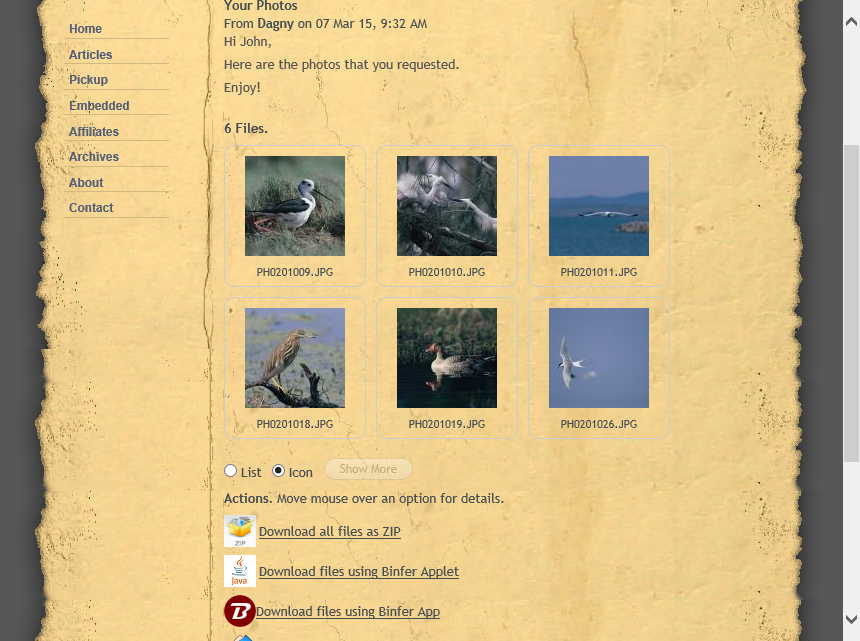 Photographers Share photos instantly from your own site and computer instead of uploading them somewhere. By the time it will take you to upload one picture, you can share 100 pictures. You no longer have to compromise your privacy by uploading your family photos online. Binfer will automatically generate thumbnails of shared photos. Family members can quickly preview the photos and download the ones they like. When done, simply delete the shared message and no one can access them anymore.
Digital Content Seller If you are selling any kind of digital content, you can deliver it directly from your own website instead of sending users to get the files from Dropbox or some other external service. Files delivered from your website are not public. They have the same security features as the standard Web Pickup app. Many companies are blocking cloud-based file sharing services. You will have a better chance of delivering files to clients from your own website.
Stream Videos From Your Computer
Recipients can also play video files without downloading them, if they are HTML5 compatible, such as MP4 or WEBM.
Videographers You can instantly stream videos directly from your computer, instead of wasting hours uploading them on external servers. Clients can watch videos instantly, provide feedback sooner and you can finish projects faster.
Stream Music From Your Computer
If you share music files that are HTML5 compatible, such as MP3, then the recipient can play the music files without having to download them.
Music Producers Tired of uploading your music on third party sites? There is no better way to instantly share and distribute your music to fans. Create a group for your fans and simply drag and drop the music files. And they can listen right away.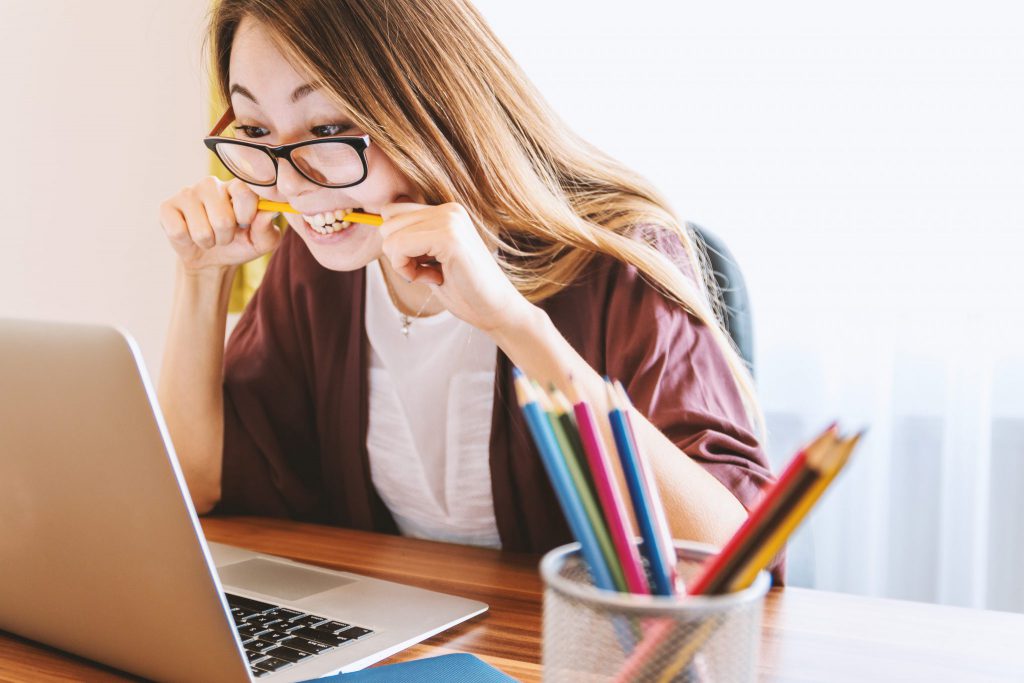 The real reason you can't transfer big files is simple – you're probably not using the right file transfer software.
Read More »
How do these plans work? Binfer licenses are similar to most subscription services. Your purchase increases the amount of data you can…
Read More »
The 'Exclude Pattern' in the Sync options is meant to leave specific files, folders, or entire paths from being synced in a 'Sync Rule'….
Read More »