A new, safer, faster, and easier way to send large files to anyone.
Professionals are continually exchanging sensitive information. In today's world, it is imperative that data transfer processes occur not only quickly, but securely as well. With Binfer's Direct Device to Device technology, there is never a worry that one's data will be leaked or end up in the hands of the wrong recipient. Unlike other file-sharing services, Binfer never keeps a copy of user's data. If the files in question are extra-sensitive, users can also password-protect the links to ensure that the recipient is the only person who can access the confidential documents. The fact that Binfer never replicates or stores customer's data eliminates the risk of cloud-based storage hacks and other dangers that are a by-process of keeping everyone's information stored in a central location. Not only is Binfer a safer alternative to other file-sharing services, but Binfer is also a faster option for sending large files.

Binfer is the perfect solution to send large files. With Binfer, one can share large files swiftly, efficiently and securely with friends and co-workers. With the Binfer File Sharing application, one can directly generate a Web Link that can be sent through Binfer's built-in email client or can be shared instantly via any popular messaging app.  Sending large files, including bulky media files such as CAD drawings, graphics-heavy reports, big photo libraries, or massive video files, is as straightforward as sending an email. Recipients have the option to comment or download the file from any device. It can be difficult to send any file type, so Binfer supports all file extensions. Whether it be large files like HD videos or RAW images, or small files like PowerPoint presentations, Binfer can reliably send files of any size. As technology continues to grow, so do file sizes. Images are increasing in size to accommodate better cameras. Video files are also seeing an increase in size as 4k resolution, and VR/360 movies become more commonplace. Moving large video and image files has become a problem for many. Binfer has simplified file transfer with it's direct device to device file sharing technology. It has made sending large files easier, faster, and more secure. When one sends a large file with Binfer, the sender and recipient are connected with a dynamic VPN-like tunnel, between each other's devices. The direct connection accounts for 50% faster overall file transfers since both the upload and download are taking place simultaneously. Just like with regular file transfers, the faster the internet speed, the more rapid the transfer. Users with fiber connections can make the most of their internet by using Binfer as their primary file sharing application. For example, if it took one hour to upload and one hour to download a large file, Binfer can achieve the same file transfer in less than an hour. If large files are sent regularly, then Binfer can save a significant amount of time.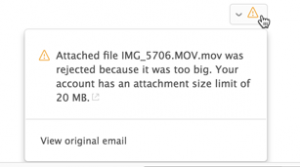 Email is still the most common method of transferring files today. Unfortunately, most email clients limit attachment sizes to 25MB or less. With Binfer one can experience the simplicity of email and security of an email, all in one powerful application. Similar to a typical email client, large files can be sent with Binfer with the following easy steps:
Add the recipient's email,
Write subject and description,
Drag and drop files. There is no need to worry about exceeding the attachment size as Binfer can any size files
Click the Send but and leave Binfer running. The recipient will be notified and can download the file using any web browser (if permitted) or with the application.
To learn more about the Binfer File Sharing product
Read Here
. To learn more about either
High Speed File Transfer Software
or Binfer as a
FTP Replacement
click the hyperlinks!
Download The Best Software To Send Large Files