Synchronize Data Directly From Device to Device
Binfer uses 'rules' to synchronize data between devices. Rules tell a device how you want a sync to happen, and you can make the rules to suite your needs. For example, a rule might allow both folders and devices to make changes to a file or folder.
Let's say you're a videographer. You can set a rule for your laptop to sync with a folder on your home computer when you're in the field or working remotely. That way your changes or edits are never lost, and you don't have version control issues when sending large video files.
Customizable rules make file sync a simple, automated process. Binfer's file sync process is also direct. This form of data synchronization makes perfect sense for today's work world because it eliminates the middleman. You can securely send your data exactly where it needs to go, and nowhere else.
"Until Binfer, we believed that replicating business data across the open ocean causing us a headache was just a cost of doing business. We were able to roll out Binfer on our vessels within a matter of days, and completely remove the hassle of data replication." —Sankar Ragavan, CEO, MariApps
Backup Important Information
You can easily set up an automated series of 'rules' to back up your data to any device you choose. This backup can be configured between computers, servers, or a private cloud. The rules ensure that your files are always in sync.
​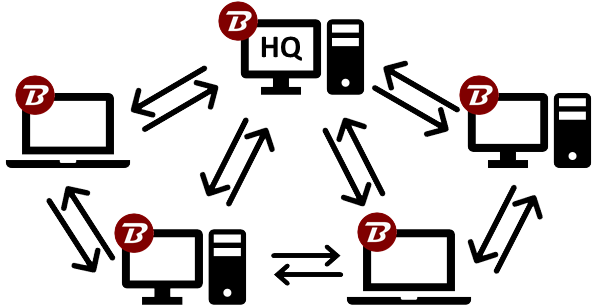 Sync Many Devices At Once
Binfer File Sync allows you to mirror multiple devices and file paths on multiple machines. Use either a pull mechanism, a push mechanism, or both. File sync using multiple machines couldn't be easier.