File Sharing Solution For Photographers
Send digital photos to your clients instantly
Binfer is small desktop application with which photographers can directly share thousands of photos without uploading anywhere. This is the next generation of file sharing application that removes your dependency on 'middleman' storage solutions. By switching to Binfer, you will 1. save lots of time, 2. increase your productivity and 3. get unparalleled security.

You do not have to waste time uploading to cloud or burning to CD/DVD. You can instantly send hundreds of photos with a simple drag and drop. Clients can easily preview proofs and download photos. Unlike cloud services, your bandwidth is not shared, so it is extremely fast. You no longer have to worry about permissions, user accounts, unauthorized access or storage limits.
This video demo showcases just one aspect of Binfer: how photographers can share proofs from their desktop and clients receive it using a web browser. Please continue reading to get an overview of all the other wonderful things that Binfer can do to make you more productive and secure.
Deliver photo proofs or large RAW files easily
When you share photos with Binfer, it will automatically create thumbnails for you. Clients can download a specific photograph or all of them without having to create an account. The task that took you hours is now reduced to few seconds.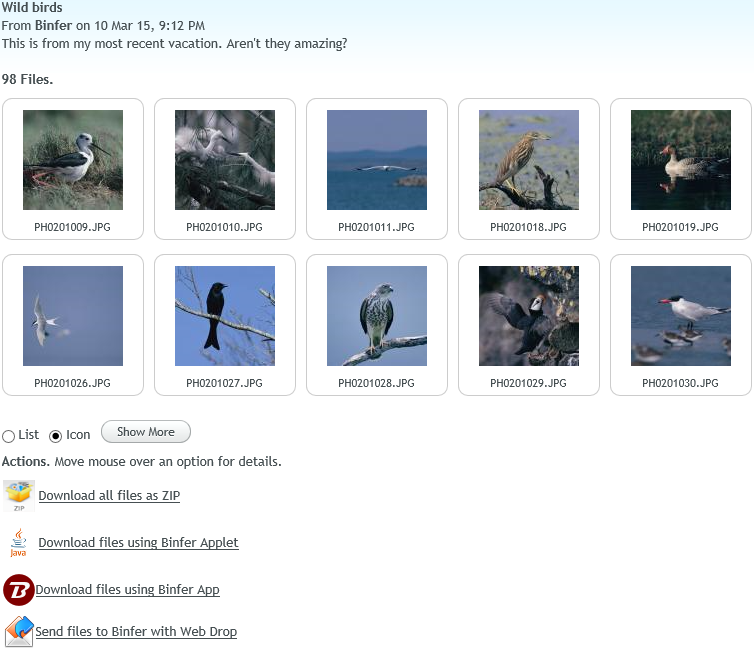 If your workflow is (eg: dropbox)
Then with Binfer it changes to

Upload files
Create share folder
Move files into folders
Invite Users
Enter email
Assign permissions
Add message
Send link

Enter emails
Add message
Drag and drop Files
Send link
Deliver photos from your website
There is no need to pay another service to host your photos. You can deliver photos from your own website, simply by pasting few lines of code.

When clients click on the link, they can download the shared photos from your website, which are actually delivered by Binfer running on your own computer. How cool is that?
Share large photos quickly
The shortest distance between two points is a straight line. And, that is exactly how you share photos with Binfer. Directly from sender to recipient. No upload to intermediate servers. This easily cuts down delivery time in half.

2 hours
4 hours total
2 hours
2 hours total
Transfer photos between computers
There is no need to upload your files 4000 miles away to a cloud server so that they can be copied to the device next to it. Run Binfer on your LAN devices with the same user id and transfer files between them without using cumbersome synching methods.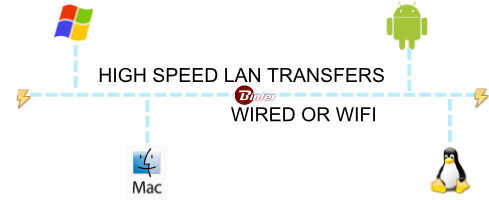 Secure Photograph Sharing
Secure sharing of photographs does not have to be complicated. Each message is automatically secured. Only assigned recipients can download the shared files.
| Cloud | Binfer |
| --- | --- |
| | |
| Files stored on their computer, insecure | Files remain on your computer, secure |
| None or very minimal access tracking | Detailed IP address and time stamp tracking |
| Provider has full control and access | You have full control and access |
| If their servers are hacked your files are exposed | If our servers are hacked your files are not exposed |
| Very difficult to delete shared files | One click removal of shared files |
| Extremely complicated to share | Easiest way to share |
Next Steps.
| | |
| --- | --- |
| Send photos the easy way | Learn More |