Send Large Files
Video & Music Streaming
Instant Photo Sharing
Integrate With Website
Secure Email
Private Chat OTR
Personal File Sharing
Share Life In High Resolution
The Easiest Way to Send & Receive Hundreds Of Pictures & HD Video
Business File Transfers
Double Your Productivity
Share Files With Clients In A Secure, Professional & Easy Way
Secure & Easy Communication
Replace Email, Chat, Cloud Uploads & FTP With One Tool
Send large files without uploading
Binfer is a
file transfer software
with which you can
send large files
without uploading anywhere. Binfer was created in response to the frustration of sending large files via email, instant messaging, FTP or web based uploads.
Binfer allows you to share files easily and securely. Files transfer directly from you to the recipient. No time is wasted in uploading and downloading one file at a time.

Send files of any size and quantity
The days of compressing, zipping, passwording and splitting files have come to an end. Binfer has ushered in the next generation of file transfer technology.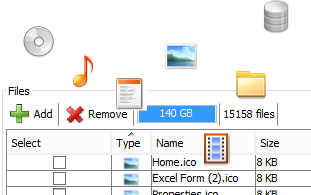 Share private photos, videos or confidential documents
Regardless of how upload services spin it, once your files leave your computer and sit on some external cloud servers, you have lost control over them.
It is easier and preferable for hackers to target such cloud services and hit a gold mine than spend their resources targeting individual computers.
With Binfer, the risk of files getting in wrong hands is greatly reduced. No loose links or copies of your files anywhere.
| | | |
| --- | --- | --- |
| 1. Files leave your computer only when recipient comes online to receive them | 2. You control delivery method and who can receive your files | 3. Add AES encryption for additional security |
Communicate with secure email and chat
Binfer is more than a file transfer software. It is also a secure communication tool. It is well suited for those looking for 1. private communication or 2. save on communication infrastructure costs.
Traditional email and chat applications store the messages on a central server and then forward it to the intended recipients. The copies may be retained on multiple servers.
Binfer chat and email are serverless. The messages are not stored anywhere and are transferred encrypted only to the intended recipient. For businesses, there is an additional saving by not having to maintain servers, storage etc.

Transfer on LAN at super fast speeds
If your computers are connected inside a LAN network, such as in a home or a office setting, then you can transfer files at least 10x faster than uploading and then downloading.
Transferring that movie to your media center PC or sending design files across the aisle to your colleague is as easy as dragging and dropping the files on the Contact.
Get Binfer and get rid of messy cables, USB sticks, shared drives, complex network sharing setups or cloud uploads.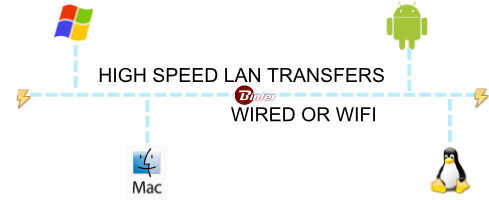 Receive Files On Your Website Or Blog
The easiest way to receive files on your website or blog.


1. Paste Web Drop code or provide link

2. Senders drop files

3. Files arrive to your device


Files are sent directly from the browser to your device. No middlemen. No cloud uploads. No hosting servers. No complex coding. Fast, easy and time saver.
Deliver Digital Products
The easiest way to deliver digital products directly from your computer.


1. Sell Your Products From Anywhere

2. Deliver via Binfer

3. Your customers can receive Files from your website


If you sell digital products, then Binfer gives you an easy and secure way to deliver them. No need to upload the digital goods anywhere. Send files via Binfer and clients receive them from your own website or ours. Integration with your website is a simple copy paste of the embed code.
Why Use Binfer?

Are you are still uploading files to unknown places in order to share them? If yes, then you are not only wasting time and money but also putting your privacy and confidentiality at risk.

 

Binfer is perfect solution for you if

You frequently need to send and receive files
Your files are too large for email attachments(ie more than 25MB) or/and more than 5
You wish to receive files on your computer and do not have FTP or a hosting server
Your want to keep privacy of your files and do not trust upload based service providers
You are looking for the fastest way to send large files to someone
You are tired of uploading/attaching one file at a time

Who Uses Binfer?

From Canada to Argentina and Russia to New Zealand, Binfer is used by people all over the world.

Binfer helps family members & friends share memories privately and easily
Binfer is an indispensable tool for Photographers, Video Production Companies, IT Professionals, Lawyers, Architects, Agencies, Small and Large businesses
The common reaction after switching to Binfer is "Wow! How did I ever get by without it?"

Binfer 3.3 release brings you a redesigned Web Pickup page, two additional download methods, thumbnail view, website integration and HTML5 media streaming.

The highly demanded and much awaited feature is finally here! Now you can use the same Binfer account across multiple devices. This allows you to share a single license across all your devices

3.1 is a major update to Instant Messaging(live chat) component. Live chat is a lesser known feature of Binfer but packs in quite a punch. Binfer instant messaging is secure, private,